Saville Gallery Showing, Told Of, Below:
Beth Piver
This video shows a remarkable art showing, in the
Saville Gallery, Cumberland, Maryland
General Art Store
19 E Main St, Frostburg, MD 21532
(301) 689-1234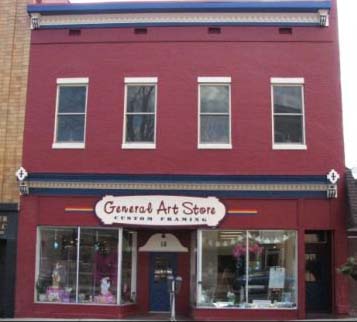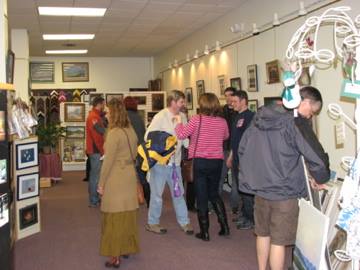 Happy Visitors: Arts Walk 2013
Westbound on Main Street, up the hill,
on the level on your left.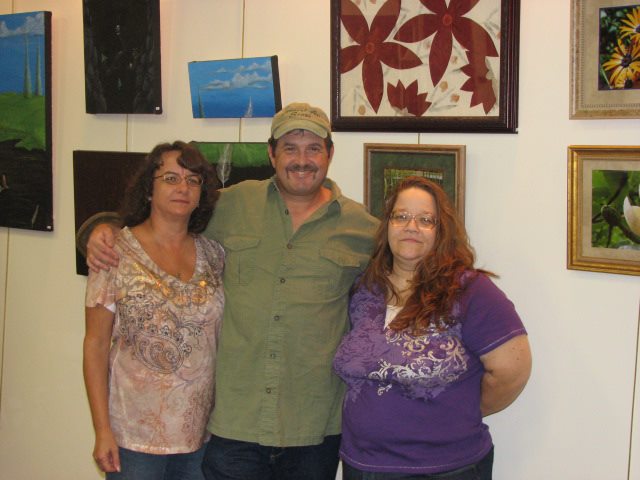 Barry the Fireman is the owner, with his wife Pattysue and Angie!
Great Gift Ideas From the General Art Store Frostburg!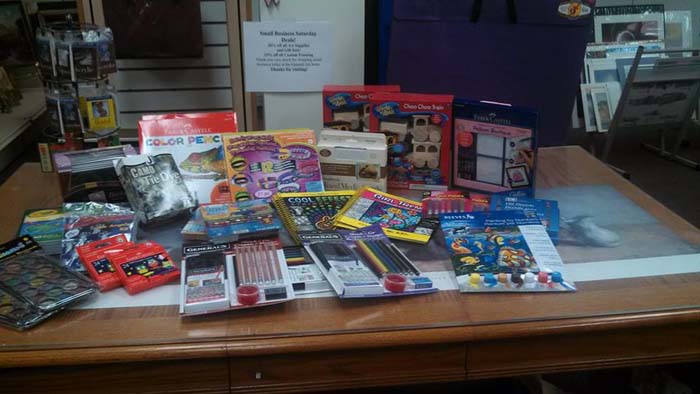 Along with most standard art supplies the General Art store has many types of art and craft gift sets suitable for all ages.
Frostburg 1960 by James Groves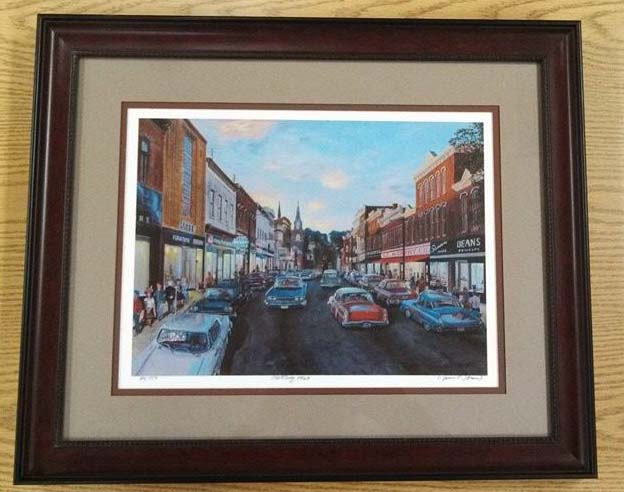 On sale at the General Art Store is this fantastic Main St Frostburg print
Frostburg 1960 by local talent James Groves.
It comes in 3 sizes:

Small print $35- framed and matted $100.

Medium print $85- framed and matted $225.

Large print $125 -framed and matted $275.
(James Groves)
Whereabouts: 11425 Upper George's Creek Road SW.
Frostburg, Md. 21532

Cross Streets: Between Caboose Rd SW and Welsh Hill Rd/Cherry Ln SW
Access: Free to all. Welcome is friendly, and, when Mr. Groves has not been otherwise employed, he has been known to give free impromptu painting lessons to his guests.
Telephone: (301)689-3389
Email: wmg @ jamescgroves.com
Hours: 10am-5pm EST Monday through Saturday
Web's Site: jamescgroves.com
The Western Maryland Gallery shows, to you, the many painstakinly detailed and inspired realistic oil paintings of James C. Groves. Here are some samples. Click on the thumbnail, to see the bigger sight:
Click on the image to see bigger (above). Left to right, Paw Paw Tunnel, Faith in Snow.
Click on the image to see bigger (above). Left to right, Devil's Den Sharpshooter, West Gate Of The Narrows.
The Art Gallery
Art Gallery and Arts & Crafts Store 1059 National Hwy , Lavale , MD 21502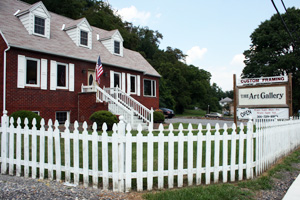 Showin of Fine Art Prints and Originals for sale. The artworks of several Local and National Artists are shown.
For your custom framin needs, you will benefit from our shop's 40+ consecutive years' experience in Professional Custom Framin& Designs.
We can help you with any custom framin project from
personal 2D photos

papers

and artwork

commercial framing projects

more complex archival presentation

shadow boxes for display of your valuable or historic 2D or 3D materials
Regular hours of business are
10am to 5pm Monday through Friday

10am to 3pm on Saturday

or by appointment
Telephone us at 301-729-8989 or send an email to us at artgallerylavale@aol.com.
Phone: 301-729-8989 Address: 1059 National Hwy LaVale , MD 21502
Email: artgallerylavale@aol.com
Latitude: 39.640743
Longitude: -78.826743
Hours of Operations: 10am -5pm Mon-Fri; 10am - 3pm Sat or by appointment. -
See more at:
http://www.mdmountainside.com/attraction/the_art_gallery#sthash.6pFsVFg1.dpuf
Reviews
Tasteful and proficient, the people at this frame shop know how to put together a piece of art to be proud of. I've only had great experiences every time I've used this shop. I was listened to carefully, my budget was respected, and I was very happy every time I had work done there.
Extensive inventory of framing materials, prints and framed art work. Professional staff.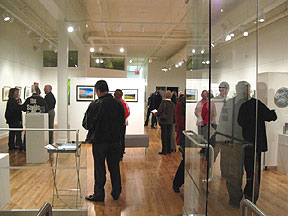 Whereabouts: 9 North Centre Street, Cumberland, Maryland

Access: Free, open to all, handicap access, in the heart of

the Cumberland arts and entertainment spots

Telephone: (301) 777-ARTS (2787)

Email: avick @ allconet.org
Here is a photo, for you, of the Saville Gallery
The Saville Gallery shows, to you, art works, by artists, from the United States of America. You will find a new showin every 4 to 5 weeks, that you might see, and, as well, enjoy.
Some happenins, here, are yearly:
The Tri-State Photography Exhibition

The Allegany County Student Art Showcase

The Western Maryland Watercolor Society Spring Exhibition

The Will's Creek Survey

The Members' Exhibition
The Saville gallery also shows, to you, works, of art, by sundry, and divers kinds, of artists (see a video, of a showin, above, left):
Lone showins

Two-person showins

Group showins
Saville Gallery Hours
Monday through Friday: 9am–5pm
Saturday: 11am–4pm

Sunday: 11am-4pm (seasonal, from mid-May through mid-November)

Also open late during gallery openins, Arts Walkins, and Friday After Five music happenins.
Now Showin
Pictures Now Bein Shown
Showins Hereafter